Ragdolls - History
Ragdoll is a relatively young breed that originated in the early 60s Anna Baker, a breeder of cats from Riverside, California. The ancestor of the breed is Josephina, a white cat of Persian type, which was owned by Anna Baker neighbor, Mrs. Pennels.
They say that Josephine fell under the car during pregnancy and miraculously survived the accident. According to Mrs. Baker, this traumatic event turned Josephine into an extreme a loose cat. When she was lifted from the ground, she relaxed like a ragdoll and had almost everything pleased, without hindering herself..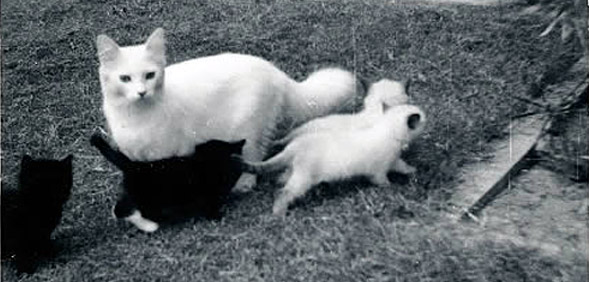 All the kittens that were born to her later gained her new "nature" and Anna Baker emphasized this in establishing a new breed.
Of course external influences (such as car accidents) cannot affect the character traits of Josephine's offspring, which are only influenced by genetics and selecting individuals for further breeding by emphasizing the nature of the selected cat.
The breed consisted of three base cats: Daddy Warbucks, Fugiana and buckwheat (Josephina kitten from a litter). Joseph's owner Mr. Pennels liquidated with kittens on the next litter.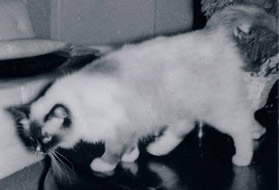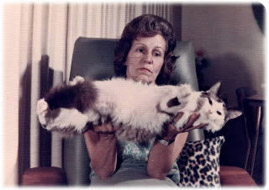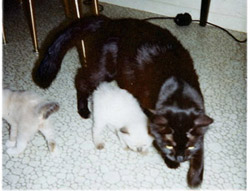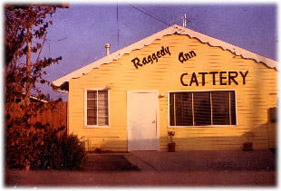 Anna Baker was primarily a businesswoman and her actions (for example, throwing cats against a wall just to she could to show on TV, that Ragdoll feels no pain.
Charging fees from breeders who bought cats from her) was wrong too. Therefore, many breeders her over time turn their back, including the public.
A huge benefit for ragdoll breeding was the married couple Laura and Denny Dayton, who in 1969 bought from Anna Baker a breeding pair of ragdolls, named Rosie and Buddy.
This couple also created a legendary photo of three Ragdolls in all varieties: Seal (Happy), Seal Mitted (Pip) and Seal Bicolor (Floppy).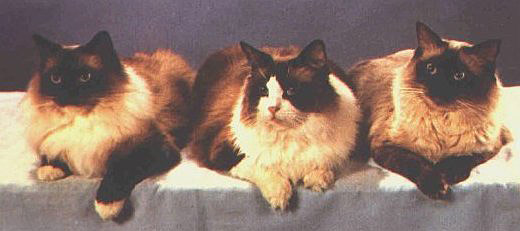 Who cares to read up here, so maybe someone will also be interested in the fate of these legendary ragdolls, just as it intrigued me.
FLOPPY - Raggedy Ann Red Rider
seal bicolor born 23.8.1967 (mother Raggedy Ann Fugianna, father Raggedy Ann Kyoto)
Red Rider, it was the real name of Floppy and was sold by a married couple from California to another breeder. He castrated him and let him remove the claws on all four paws ... terrible!
Soon he was returned to the original owners, saying he was impure and he couldn't use a cat toilet. When the Daytons saw him for the first time, he was in a cage, in a bundle with other clawed cats, and he was badly conquered. Dayton, though even in that impoverished state they saw his incredible beauty and took him home.
At home Floppy urinated into the toilet, but incense beside the ground. That's why they gave him two toilets and the problem was gone. Since then, Floppy has honestly used one urinal for urination and another for hardening.
Floppy has never been to any show, but he was a true Ragdoll and helped the Daytons show the ragdol's nature and appearance 100%.
PIP - Blossom-Time Pip
seal mitted born 19.12.1971 (mother Miss Chef of Blossom-Time, father Raggedy Ann Buddy of Blosoom-Time)
Male Pip originally bought a man as a birthday present for his wife, but she refused, and Pipa was returned.
Because Pip was perfectly colored, he was destined for show career. He also really loved the exhibitions and could show off in full beauty. Over the course of 8 years he has been to 79 exhibitions and you could see in many magazines.
When he retired, the Daytons sold it to an East Coast breeder.
HAPPY - Blosoom -Time Happy
seal colorpoint, nar.21.10.1973 (matka Lolita of Blossom-Time, otec Raggedy Ann Buddy of Blossom-Time)
Happy was one of Dayton's cats and was only 8 months old at the time this picture was made, but he was very large for his age. He loved people and was very cuddly.
Although it was a stud cat so anyone could cuddle him. He was a representative of a true ragdoll of nature, with all love and trust in people.
After having had these three beautiful ragdolls together, Dayton asked a photographer named Edward Linneman to take a picture of the three representatives of ragdoll cats. The photographer took a total of 72 pictures, from which one, so famous today, was chosen.
The Daytons remember how it was funny to keep cats on the table and in spotlight. They were hiding under the table and sometimes had to gently hold them by their tails to keep them from escaping.
Their efforts have been rewarded because to date no one else has been able to take all three ragdol varieties together so perfectly.
---